09. Aug 2019: Nile Air NP127 from Cairo to Jeddah
Aircraft Information
Production
First Flight:
Mar 2005 ( 14 years ago)
Seat Configuration
204 seats
8 Business
196 Economy
Airline Information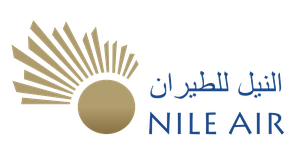 Nile Air is an Egyptian airline based at Cairo International Airport that operates scheduled services to destinations in Egypt and the Middle East, Persian Gulf, Southern Europe, Asia and Africa. Nile Air is the largest private airline in Egypt and second only to EgyptAir. It is a full service carrier that operates scheduled services, using a fleet of Airbus A320-200s & Airbus A321-200s. In addition to operations from its hub at Cairo International Airport, the airline operates a smaller base from Alexandria's Borg El Arab Airport.
Source:
Wikipedia
Departure Airport: Cairo
About
Description:
Cairo International Airport is the international airport of Cairo and the busiest airport in Egypt and serves as the primary hub for EgyptAir, EgyptAir Express and Nile Air as well as several other airlines. The airport is located in Heliopolis, to the northeast of the Cairo around 15 kilometres from the business area of the city and has an area of approximately 37 square kilometres. It is the second busiest airport in Africa after OR Tambo International Airport in Johannesburg.
Source: Wikipedia
Location
Runways
| Identifier | Length (m/ft) | Surface |
| --- | --- | --- |
| 05L/23R | 3,301/10,830 | Asphalt |
| 05C/23C | 3,999/13,120 | Asphalt |
| 05R/23L | 4,000/13,123 | Asphalt |
Arrival Airport: Jeddah
About
Description:
King Abdulaziz International Airport is a Saudi international airport located 19 km to the north of Jeddah. Named after King Abdulaziz Al Saud and inaugurated in 1981, the airport is the busiest airport of Saudi Arabia and the third-largest airport in the kingdom. The airport's Hajj Terminal was specially built for Muslim pilgrims going to Mecca annually on the Hajj. It is one of the largest in the world, and can handle 80,000 passengers at the same time.
Source: Wikipedia
Location
Runways
| Identifier | Length (m/ft) | Surface |
| --- | --- | --- |
| 16L/34R | 4,000/13,123 | Asphalt |
| 16C/34C | 4,000/13,123 | Concrete |
| 16R/34L | 3,800/12,467 | Asphalt |
Past flights with the same Flight Number